Historically yarn and weaving imposed themselves, sometimes at the end of the paleolithic, as far superior techniques than the use of skins. Primitive tanning techniques were responsible for leather becoming brittle with aging and so the leather would easily crack when accidentally plyed. Even today many tanned pelts continue to suffer from such weaknesses. All these reasons imposed wovens versus pelts on the market.

Tanning techniques remained primary till well after the second world war and furthermore quality pelt dyeing became only available in the end of the seventies or beginning of the eighties. In sum the techniques to make pelt-assemblies competitive with wovens emerged only very recently. These recent scientific and technological gains boosted the market potential of pelt-assemblies. The only limitations lay eventually in our lack of creativity. Eina Bems was one of the first companies that took opportunity of the tackling of those technological as well as creative challenges and consequently offered modern fur tapestries and modern rugs with far superior qualities than wovens.

I have been tasked by Eina Bems llc, in 2002. to design a collection of fur tapestries.
The limited edition collections of these designs was sold out by 2008.
Powered by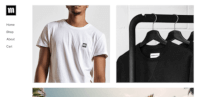 Create your own unique website with customizable templates.