Gouaches


My first fifteen years in Beijing were focused on the study of Chinese traditional culture, the build-up of China's civilization, and the roots of modernity. It took me nearly fifteen years to digest those subjects before I was ready to come back to painting. That was in the year 2000 when I realized 10 gouaches.


The Grand project




The writing part of the grand project is
the series "From Modernity to After-Modernity" that I started to write during the winter 2014-2015. I copy-pasted my blogs posts in book template on Libre-Office. By the end of the 2nd winter this blog material totaled over 1200 book pages. I now have to edit and polish the copy-pasted content before the books can be published.


The Grand project




The idea of painting something more than one work after another without much of a continuity in the narrative was hanging in my mind since some years without I ever could formalize a satisfying method for the narrative to grow naturally as in a written story. The written story has an abundance of images succeeding one another. One single image detached from the story loses indeed much of its narrative power.

Powered by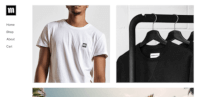 Create your own unique website with customizable templates.