This is a series of digital variations of the 40 paintings in the artsense collection
Total variations:
- The artsense collection totals 40 acrylics.
- Each of those acrylics receives 12 digital variations
- total variations: 40 x 12 = 480
- At present only the first 25 acrylics received their variations. Total 300
variations that are in the galleries Variations 01 to 09.
- works of this collection are no longer available
Practically the process goes as follows:
1. Each painting of the artsense
collection is photographed digitally
2. Those photographs are uploaded to a desktop computer
3.
Photos are cropped and adjusted at resolution of 3600 x2880 pix.
4. Photos are manipulated in the Gimp free open source imaging software)
5. Variations are ready for printing in Limited editions of 25 prints per variation.
---
Powered by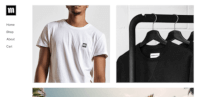 Create your own unique website with customizable templates.